4-Day Email Challenge
Four Musical Must-Haves for EYFS & KS1
Join our 4-Day Email Challenge, and receive other free resources, tips and advice emails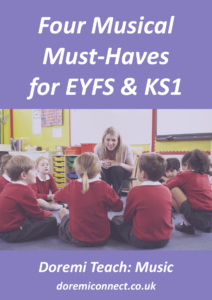 Teachers confide that they feel ill-equipped to teach music to their Primary school classes.
They doubt their own musical skills and often believe musical ability is something you're born with.
No one has taught them how to break down the skills into their age-appropriate microsteps in the same way they have for literacy and numeracy. It's no wonder they think teaching music is difficult!
If this sounds like you, I'm here to help.
Just join our 4-Day Email Challenge where I'll share my four musical must-haves for EYFS and KS1 music lessons. I'll also set you up with some other goodies and send you teaching tips, resources and inspiration straight into your inbox.
I'm determined to help you by sharing EASIER and MORE EFFECTIVE strategies for teaching music using my Kodály-inspired Doremi Teach: Music Approach.
*EYFS & KS1 cover ages 4 to 7
4-Day Email Challenge
Four Musical Must-Haves for EYFS & KS1
Join our 4-Day Email Challenge, and receive other free resources, tips and advice emails