Download our Essential Beginner Rhythms for Music Lessons
Subscribe below for this free download, plus other free resources, tips and advice emails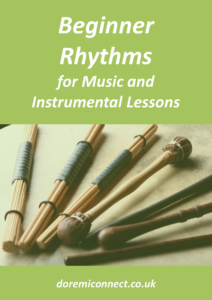 As your students progress along their musical journey and discover more complex rhythms you can include them gradually into your rhythm activities. 
However when your students are just getting started there's no need to be too creative. It's far more effective to use the same small set of rhythms and really get them embedded into their unconscious minds.
This has the benefit, not only of focusing on the more important rhythms, but also increasing their likelihood to succeed. Finish each activity feeling successful should be our top priority.
Download this PDF resource to discover a quick overview of Kodály rhythm names, my favourite beginner rhythms and some of the songs in which they are found.